Founder, Lorraine Kimmel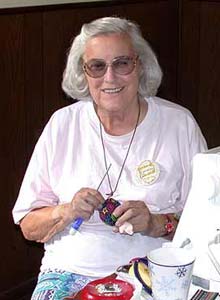 Lorraine started the Vashon Island Sewing Retreat. Having a passion for sewing all her life and having owned the Plaza Fabrics store on Vashon Island, she became a founding board member of the Seattle Chapter of the American Sewing Guild. She talked the Sewing Guild into sponsoring a sewing retreat on Vashon Island, but before the first retreat in 1985, a change in the Guild's national policy caused the Seattle Chapter to disband. Lorraine kept the retreat alive by personally taking over the Retreat project. Shortly there after, Lorraine brought Camp Burton in as a co-sponsor. Over the years since then, many retreat instructors and attendees have pitched in to make the retreat the cooperative effort it is today.
Lorraine had a loving and friendly but firm way of managing this group of creative and independant individuals, so we soon came to affectionaly call her "Mother Superior." Gradually Lorraine handed the directorship duties over to her daughter Penny. Lorraine will be greatly missed, but never forgotten!
Lorraine had a flare for colors and styles, sewing her own clothes from an early age. Later, she concentrated on crafts, dolls and quilt projects, combining flashy new fabrics with the colorful stash left over from the closing of her fabric store, which she owned with her sister-in-law Sally. She was an active member of both the doll and quilting clubs on Vashon, plus part of a small group of island sewers who make hundreds of lap quilts for Fred Hutchinson Cancer Center patients. Her later years were filled with quilting projects for American Hero Quilts. She will always be known for her unusual soft sculptures which she sold on consignment and her colorful, individual sweatshirt jackets, that she wore everywhere.