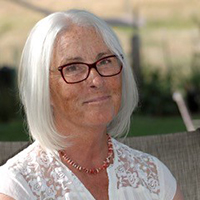 by Colleen Blackwood
for up to 20 Students
Colleen describes her class:
Two blocks make up this pieced block made of traditional blocks combined to create a more modern look. Plan to use pieces of favorite fabrics as the star points, making every star a different color. The two blocks each use one fabric in different placements to unify color choices and create this interesting design that shows off color choices beautifully.
Some cutting and construction methods used are more advanced than beginner level in order to stretch everyone's skills. Confident beginners can make this quilt as well as those who have years of experience.
We will make one block of each style during class. These blocks have a lot of stitching time and it is best to work in an organized manner to keep from mixing things up. Please don't expect to finish all the blocks in class.
Bring paper and pencil to take any notes you would like to remember.
Project dimensions: Quilt size: 72 x 72
Colleen's patterns can be found at Laughing Lizzie's Patterns because laughter is part of the day.www.LaughingLizzies.com.